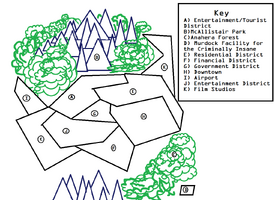 Scrimshaw
is a city in the Southland Region, on the southern island of New Zealand, and the home of the
Season Ninja Academy
.
Description
Scrimshaw is an inland city, mostly surrounded by forests (primarily those of McAllistair Park), broken up by mountains and fjords. It tends to be wet and green, but with generally mild weather.
History
Scrimshaw was founded by Scottish colonists in the 1830's, named by whalers. Its history was remarkably uneventful, up until the aftermath of World War II, in which a number of immigrants set up the Season Ninja Academy in--or rather, underneath--the city. Thanks in particular to the Spring Ninjas, the city's medical facilities became well-known, and for a while were the main external draw aside from tourism. In the early 2000's the town became the host of a few small film studios, but many of these withdrew when the monster invasions began in 2003.
Significant Residents
The Season Ninja Rangers
Monty Harod
Mr. Parata
Mrs. Parata
Jonah
Nate Farrell
Westley Thorne
Bryce Cameron
Vera Cameron
Community content is available under
CC-BY-SA
unless otherwise noted.