Koji Komatsu

White Beat

Gender:
Male
Date of Birth:
April 9
Age:
21
Season:
Kyoumei Sentai Beatranger
Colors:
White
Homeworld:
Earth
First Appearance:
????
Last Appearance:
????
Number of Episode
Appearances:
##

Actor:

White Beat
"Scoring the winning goal! White Beat!"
Koji Komatsu (小松 幸次 Komatsu Koji) is the white Beatranger, known as White Beat. He wields power gained from Soccer Resonance.
History
(to be added)
Personality
Koji is very active and playful. He tends to compete with Mariko a lot. He's pretty cocky, but falters when put on the spot in dire situations.
Powers
White Beat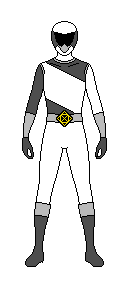 As White Beat, Koji has enhanced strength, a protective suit, and resistance to most hostile resonance, as well as the ability to duplicate himself. He can summon the Euro Scorer, a weaponized soccer ball, as his personal weapon.